LE RESTAURANT
Michelin star dining in the heart of the Left Bank
Intimate and inviting, Le Restaurant is one of the most romantic and seductive restaurants in Paris. Decorated with plush upholstered seating, green marblesque pillars and silk fabric draping the walls, the interiors are as captivating as the outdoors - a small cobbled terrace with a beautiful fountain and verdant living wall.
Head Chef Julien Montbabut's menus are equally as distinctive, deploying classic techniques to create food that is progressively modern, light and fresh.
About Julien Montbabut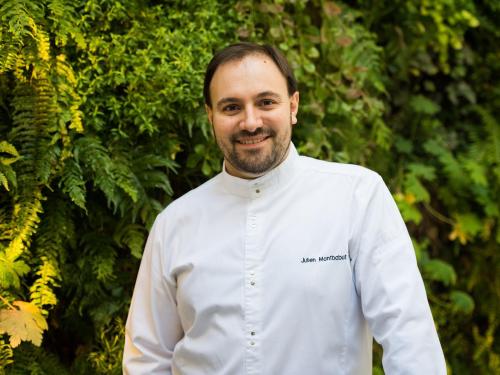 Head Chef Julien Montbabut, returned to the kitchen of Le Restaurant in April 2011. Julien was sous-chef in 2008 when Le Restaurant was awarded a Michelin star in recognition of its outstanding cuisine, quality and service. After two and a half years at the one Michelin star Pavillon de la Grande Cascade as Executive Sous-Chef, Julien returned to Le Restaurant.
Opening Hours
Breakfast: Monday to Saturday from 7am - 10.30am, 7am – 11:30am on Sunday
Lunch: Thursday to Saturday from 12.30pm - 2pm
Afternoon tea: Tuesday to Saturday from 3pm to 5pm
Dinner: Tuesday to Saturday from 7.30pm - 10pm
Reservations can be made by contacting our bilingual staff on +33 1 44 41 99 01.